Today I experienced the collaborative, anything-can-happen wonder that is THATcamp. An "unconference" where all participants are potential presenters, THATcamp stands for The Humanities and Technology Camp. Instead of beginning with what we could potential present, we began by listing on a whiteboard what we wanted to know. Then we marked the topics we were interested in discussing. The most popular topics became the headings of the day's six sessions.
The first session I attended discussed engaging students in an online environment. One of my colleague discussed how she sends her online students care packages in the mail. At one point in the semester, students send her back a postcard. She does this to add an element of "touch," which she says students crave. I would call this an affective dimension, and it's a strategy of engagement. In my face-to-face settings, students always comment on how well they come to know their classmates in a composition class, as opposed to more lecture-based disciplines. I assume this is why I have students who will attend all semester, even though they fail to complete any assignments outside of class. They find the community setting to be valuable or they simply have no other place to go from 12-2 on those days of the week (I have yet to quite figure it out). My interest was in how to move students away from the silo-based individualized instruction that often happens in online classes.
The second session I attended illustrated how Pinterest and Tiki-Toki could be used in history courses. As I thought about what students could "pin" in a composition class, aside from rules and exercises, I thought about memes and my thematic assignments regarding digital identity. For the timeline assignment, I thought not about historical events, but current events and my online journalism class. In particular I thought about the Freddie Gray's arrest and subsequent events and came across an interesting timeline from the New York Times. This one is laid out in a linear fashion. However, a horizontal timeline could be layered, where you could have a layer containing the actions of the cops and government officials and a layer of protest activity. Thoughts to explore later…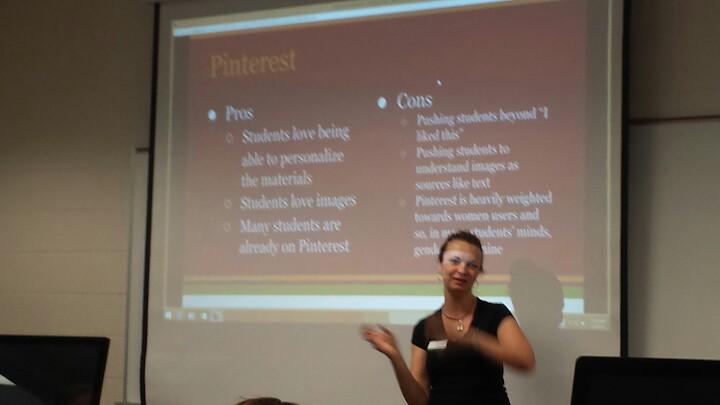 For the final session, I co-presented my experiences designing and teaching digital story assignments. I love presenting this topic and looking at past student examples because it reminds me why overcoming student resistance and wrestling with technology is worth it in the end. The products speak for themselves, literally, that's the beauty of digital stories. Here is one example: http://youtu.be/JY3s7RNMzqY
Academic scholars have drawn from various influences to understand the role selection and arrangement play in new media writing, such as Marcel Duchamp's Green Box, Walter Benjamin's Flaneur, and William Burrough's cut up method. Geoffrey Sirc uses Duchamp's Green Box collection of personal notes as inspiration to imagine "a compelling medium and genre with which to re-arrange textual materials–both original and appropriated– in order to have those materials speak the student's own voice and concerns, allowing them to come up with something obscure, perhaps, yet promising illumination" ("Box Logic" 113). However, such things no longer need to be imagined. The idea of choosing and placing a variety of materials based on personal association is one of the most common uses of sites like Tumblr and Pinterest. The only difference is, unlike Duchamp's box, these repositories are linked to a network of other boxes. How many high school seniors have a Pinterest board labeled "College," where all their future goals, visions, and desires are stored, from possible majors to dorm room layouts? Like Benjamin's vision of the modern flaneur, individuals online leisurely stroll through Pinterest boards and Tumblr and Twitter feeds that beacon like storefront windows. However, unlike the modern flaneur, there is often little reflection on what these collected cultural artifacts say or mean.
So what do we do with these fragmented materials? Jeff Rice draws from Burrough's use of the cut up method to demonstrate how writers can appropriate material and use it in their own writing. Burrough's work brings both a commentary on the oppressiveness of copyright and an approach to using juxtapositions and collections as a mode of invention:
It is experimental in the sense of being something to do. Right here write now. Not something to talk and argue about.
Greek philosophers assumed logically that an object twice as heavy as another object would fall twice as fast. It did not occur to them to push   the two objects off the table and see how they fall. Cut the words and see how they fall. Shakespeare Rimbaud live in their words. Cut the word lines and   you will hear their voices. (Burroughs)
Within Burrough's cut-up method, individuals are writing with a sense of play in order to discover. They are learning through the experience of cutting up and assembling. Too often students think of learning as something that happens prior to writing. Using cut up and collecting methods to invent and understanding how juxtapositions or a collection of texts create meaning is another specific literacy skill needed to navigate and create rhetorically in new media ecologies.
Fair Use: The Modern Day Cut Up Method
The mastery of remix is using clipped pieces to create a different meaning than they had in their original form. The Daily Show does this when they cut up and remix news clips. The cut up and juxtaposition of clips tells a different story than the ones originally aired in newscasts. Usually it is to show the ineptitude of a news station, the hypocrisy of a politician, or the illogical viewpoint of a special interest group. This is why it is considered a transformative use.
Often when we add music to videos we are not thinking of a transformative use. We put romantic ballads over wedding videos and sad songs over photo montage tributes. Now, what if you had a wedding video juxtaposed with the song Papa Roach "Scars"? The song and the wedding video would mean something different together than they would apart. This is what a good remix does.
In my own example, I juxtapose clips of the TV show Community with videos from Delta College's marketing department. I used the program WeVideo, which I loved until they began charging to upload videos to Youtube. So I won't be doing my fine tuning in WeVideo, but starting again in Adobe Premiere. I wanted to create a video where I say nothing and let the edits tell the story. Here is the rough cut: https://www.wevideo.com/hub/#media/ci/257660886
We begin our new media writing journey with blogging and Tweeting, where success hinges upon on our ability to develop a distinct voice, to identify our audience, and to network. For example, there are thousands of cooking and lifestyle blogs online. To standout you need a unique lens, a fresh perspective, humor, or an innovative approach. Consider one of the most successful examples of a cooking and lifestyle blog, Pioneer Woman, which led to a show on the Food Network. She capitalized on the fact that she lives a lifestyle that most of us can only imagine on a large cattle ranch in Oklahoma. It has humor, tradition, and cowboys. Of course, not all of us are willing to market ourselves and our lives in that much detail.
 "In Confessions, I post photos of cows, horses, and my four weird children…as well as frequent shots of my husband wearing chaps" – The Pioneer Woman
Blogging begins by asking what it is you have to offer your audience.  Could you deliver informed and educated cultural commentary, a humorous take on everyday life, a skill you can teach others, etc.? Examine successful blogs that fall into the same category as yours (technology how-to, parenting, pop culture) — what makes them standout in the crowd? Next, we learn about your potential audience through Twitter, Facebook, and Pinterest — discovering what they (moms, gamers, fans) are most likely to retweet, share, or pin.
Like the Pioneer Woman, who left big city life to become a rural homemaker, new media writers are also on a journey. We are operating in a constantly evolving medium. As soon as we learn one application, we must transfer our knowledge to another. I am here to document these journeys. That is what I have to offer my audience. My lens is my academic training, which helps me understand the distributed agency that exists within online writing. We are dependent on our technology and on our network of viewers. To be successful, I not only have to be witty, creative, and informed, I need to have a readership that can put my advice into practice, offer commentary, and spread the word.